A campsite by the lake in Normandy
Our campsite on the lake in Normandy
The location of our 3 star campsite in the north of Lake Normandy is conducive to a most relaxing stay in a beautiful region with varied and soothing natural landscapes. It allows you to discover beautiful walks, but also offers outdoor activities for children and adults.
Other possible leisure activities, from the quietest to the most adventurous and unusual, await you around this beautiful region of ponds and lakes. As well as unique historical and architectural sites.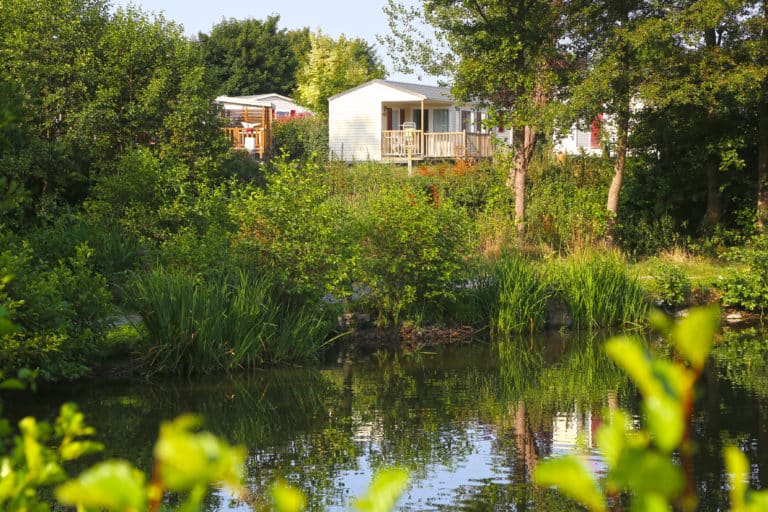 Ideally located at the edge of the lake and ponds
Located near the charming town of Torigny-les-Villes and in the heart of the Normandy bocage, our campsite offers a unique vacation in a quiet and bucolic area. From your mobile-home, your chalet or your tent, you have a direct access to the pond of Torigny.
The ponds near the campsite are fully integrated into the park of a magnificent castle, inspiring idyllic pastoral walks under the lime trees. Along this beautiful walk, you will meet ducks, but also the mysterious remains of an old historical fortress that has probably not yet revealed all its secrets.
Lake and ponds offer outings with a picnic area and a fishing area of 2nd category, as well as many games for children. Do not hesitate to take a fishing card for a day or a week at the Tourist Office. You can also organize a very nice pedal boat trip.
Fishing and resting days with the family
Around our campsite Le Lac des Charmilles, you have the possibility of discovering very beautiful sites in Normandy, and of doing many activities such as hiking, biking, horseback riding, canoeing down the Vire river, or even biking on old railroad tracks.
Climbing on the schist cliffs of the Roches de Ham, bungee jumping or zip line, accrobranche course and much more await you for unique and unforgettable moments.
In terms of history and culture, there are many museums, cemeteries and monuments to visit, particularly on the theme of the war and the D-Day landings. Without forgetting the landing beaches, or the Memorial of Caen.
Beautiful visits in the surroundings
Finally, don't forget to add to your stay a visit to the magnificent sites that have made the reputation of our beautiful region of Normandy: the Mont Saint-Michel and its superb bay are not far away, as well as the Chausey Islands, or the beautiful city of Saint-Lô. Don't leave without visiting its stud farm and its superb stallions, in the splendid architectural complex of the end of the 19th century.
To enjoy the lake, the ponds and all these activities, book now your stay with family or friends in our 3 star campsite Le Lac des Charmilles, on the edge of these magnificent natural and historical places.