Camping near fishing ponds
The guarantees of a fishing accommodation
Proximity to a fishing site of good environmental quality
Technical room for equipment storage
Water point for rinsing material and equipment
Live bins
Varied and adapted services, information and documentation (instructors and fishing guides, initiation structures, Internet access, magazines and fishing regulations…
No need to move
Fishing friends, vFishing cards are sold at the reception desk.
Managed by the fishing federation FNAAPPMA
The National Federation of Fishing in France (FNPF) and the protection of aquatic environments created by the law on water of December 30, 2006, includes 97 departmental federations of freshwater recreational fishing and their 3,700 approved associations of fishing and protection of aquatic environments (AAPPMA).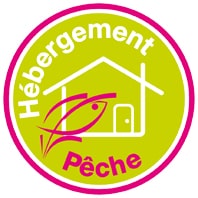 Presentation of the Gaule Marignaise
(AAPPMA)
1st category
The Lozon, from its source to the road of St-Lô-Périers. The Terrette from its source to the road from Pont-Hébert to Tribehou.
2nd category
The Lozon up to its confluence with the Taute downstream from Tribehou. The Terrette to its confluence with the Taute downstream with Tribehou